Louisville Pet Fence Installs And Services Available
Derby's Pet Fence service is for all electronic pet containment needs.  This includes doing repairs on existing fences regardless of who or what company did the installation.  And, of course, complete installations of electronic fencing with professional equipment that includes rechargeable collars and battery backup.
At Derby's Pet Fence of Louisville, we're proud of the family environment we've created over the years with our customers. We take great pride in protecting your pets and offering you a one-of-a-kind experience.
Derby's Pet Fence has become a leader in electronic pet fencing in the Louisville/Lexington/Southern Indiana area since 2005. 
James Overstreet
2023-06-28
The owners truly care about the animals, in this case our 2 German Shepherds, well-being, safety as well as perimeter protection for them and peace of mind of the customers. . The owners have a "Customer First" attitude that is so refreshing and sets a positive model for other business owners. I highly recommend Derby's Pet Fence. They will take good care of you, the customer, and your pets.
They were great! Now my dog doesn't run into the neighbors yards all the time
First time dog owner and I called several area businesses to ask about electric fences. Derby's Pet Fence answered each question (and many phone calls) professional and did not try to sell me anything more or bash other businesses. Installation was a breeze and the training material was excellent-even though it was on me to do it, was very easy to do. Highly recommend!! As you can tell, our little dog Dixie is quite comfortable and having the ability for her to roam freely but safely is a huge stress relief with this fence!
We had a great experience! Installation went well and our dog trained quickly. He now can run in the backyard with the kids, chase birds and sun his belly without being on a leash. I highly recommend Derby's. Thanks!
I would like to thank Derby Pet Fence for their professionalism and great customer service. We had them out to install an underground wire fence for our dogs. Scott and Blake were the technicians. They showed up on time, installed it quickly and trained us on how to use it. They answered any questions we had. Their customers service is second to none (I talked to Michelle) when I called. Super nice and very informative. They also checked in on us after installation to make sure everything was going ok. Thank you again Derby Pet Fence for giving us peace of mind and keeping our dogs safe within our property. Highly recommend them for keeping your pets safe!
We have used Derby's Pet Fence on our last 2 houses. We have had nothing but excellent experience with Steve, Michelle and the entire staff. This is a top of the line product at a great price. More importantly the customer service is second to none. I've been able to call anytime I have a question or needed assistance and received an immediate response. I recommend Derby's to anyone looking for a pet fence. You will not be sorry you called! Thanks Steve, Michelle and team!
We had our fence installed in November 2022 and love it! Everyone was really nice. The instruction guide was easy to follow and it only took about 30 days for my dog to be trained. It really made a difference in my dog. She gets all her energy out so she is more relaxed in the evening. Highly recommend this company!
caroline marcum
2023-03-01
The guys showed up on time and took their time working with our dogs and us! It seems like a great system to keep our dogs safe.
Called and had fence installed within a week. Great folks and super helpful.
Call Our Louisville Location Today
Call us today at 502-314-7398 to set up an appointment to get a quote for service on your existing system, or a quote for a new installation in the following service areas:
Bullitt County
Clark County
Floyd County
Hardin County
Harrison County
Henry County
Jefferson County
Meade County
Nelson County
Oldham County
Shelby County
Spencer County
Trimble County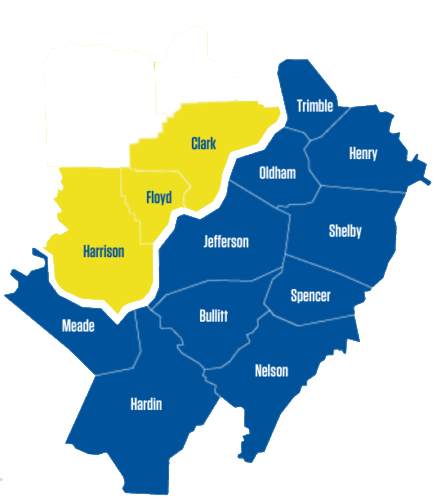 This is one business we would recommend to anyone who has an active, wandering, or basically a normal dog! -Mary, Vincent, and Buddy Breeck
...knowing that I can let her go outside on her own while I get my work done has been absolutely wonderful.  Thanks so much, Derby's. -Nina and Bart
We would gladly recommend Steve to anyone, even those with hairy, rambunctious dogs like Chip. - Clay Parish
Just thought you would like to know that we are very happy with your product and would recommend it any time. -Todd and Megan Atherton
Your staff showed the utmost professionalism and we would recommend you to anyone. -  The Rice family and most especially, Izze!